The only thing better than wearing a dress that makes you look and feel fabulous is knowing your fabulous dress is going to stay fabulous through years of wear. How do you find clothes that will stand up to wearing and washing, and stay looking fabulous? Name brands are no guarantee of high quality, and bargain prices don't always mean bargain clothing. If you love high-quality clothing—and really dig a bargain—check out these tips to help you find clothes that you'll love for a long, long time.
Check the Fabric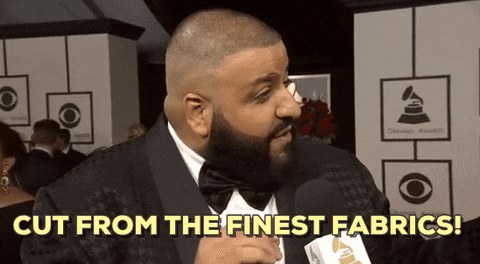 Quality fabric is the cornerstone of a well-made garment. Dresses, shirts, and pants made of good-quality fabric will wear better, drape better, wash better, and hold their shape better. Here's what you should know to help you judge the quality of different types of fabric.
Read the Label
The label, or, if you're shopping online, the description, should tell you what types of fabric make up the garment. Some people prefer 100 percent natural fabrics, such as cotton, linen, silk, and wool — synthetic has taken on a bit of a bad reputation in our too-often plastic world. It's not unusual for manufacturers to blend natural and synthetic fibers to add stretch, reduce wrinkling, or improve the drape of the cloth.
On the flip side, some blended fabrics just don't wash well. Cotton and polyester, for example, may shrink at different rates, subtly changing the shape and drape of your shirt after you wash it. Get to know the clothes in your closet that fit and wear best, and look for clothes made with similar fabrics and blends.
Feel the Garment
Your hand can tell the difference between well-woven fabric and shoddy weaving. Drape it over your arm and feel how it falls. Rub it between your fingers to feel the thickness and evenness of the weave. Good fabric will drape well, conforming to the shape of your arm and falling smoothly. Even the sheerest fabrics will feel substantial between your fingers, with the weave staying intact rather than seeming to stretch out of shape when you give it a little pull.
Hold It Up to the Light
Another way to judge the denseness of the weave—and density is what you're looking for—is to hold the garment up to the light. You'll be able to see how even the weave is and how densely the fibers are woven; remember, more fibers mean more fabric and better wear. You can also find an inconspicuous spot and give the cloth a little stretch. It should bounce right back to its original shape. If it doesn't, put it back. It's a pretty good bet that you'll end up with a sweater or T-shirt that stretches out of shape and never quite returns.
Check Out the Construction
High-quality fabric is just the first step. Good construction is an essential part of high-quality clothes. Good clothes, clothes that feel right when you wear them and last through years of wearing, have well-finished seams, even stitching, and buttons that are firmly sewn on.
Check the Seams
Check the seams inside and outside. The stitching should be flat and even on both sides. Uneven stitches and different spacing on the top and bottom of the garment are marks of poor workmanship and could result in seams that stretch.
While you're on the inside of the garment, check out the way the seams are finished. The edges should be turned under or, at the very least, edge-stitched to keep them from fraying. There should be enough fabric beyond the seam to prevent frayed fabric from pulling the seams apart.
Look for a Straight Fabric Grain
Check out the direction of the weave. It should either be straight up and down or at a 45-degree angle that allows the fabric to stretch and fall properly. If the fabric wasn't cut properly with the grain, that great T-shirt could look a hot mess when it starts stretching out of shape.
Look at the Details
Finally, check out the little details. Are the buttonholes properly finished, or do they have loose threads? Are the seams properly clipped? Is there interfacing in places that should be a little stiffer like shirt collars and cuffs, blazer lapels, and pant waistbands? Is the stitching reinforced at stress points like crotch of pants, for example? If those little details have been overlooked, it's a hint that the rest of the construction may not be as good as it appears.
Online Shopping Tips
Obviously, it's a whole lot easier to judge the quality of clothing in person. If you're shopping online, you don't get to closely examine seams or feel the fabric. That doesn't mean you're at the mercy of fate, though. There are a few things you can do to help you tell whether that gorgeous dress is top-of-the-line quality or a hard pass.
Read the Description Carefully
The description should tell you about the fabric composition, washing instructions, and other details. Check out the pictures, zooming in on the seams and buttonholes. If you're shopping at one of those secondhand-closet websites, look for high-quality brands, and check out the pictures for signs of wear and tear. Finally, some sellers include a little video clip to show their clothing on a model. Watch it. It will give you a feeling for how the fabric moves and drapes when you're wearing it.
Read the Reviews
Seriously. The reviews may be the single best source of information you'll ever find. People who love the item you're looking at will tell you exactly what they like about it, but do make a point of reading the negative reviews. That's where you'll find out about shoddy workmanship, poor fabric, and uncomfortable fitting. Don't forget to scan the "questions" section, if there are answered questions.
Finding high-quality clothes at bargain prices isn't a science. You just have to know what to look for, and remember to actually look for it before you impulse buy. The end result of careful shopping is a closetful of clothes that you love, that you'll keep on loving for a long, long time.
Consult an Expert
You probably can't afford a personal stylist, but you can glean some of their wisdom about how to pick quality clothes  with the right book. Here are a few favorite picks style experts you can trust, like the wonderful Tim Gunn.
Prices are accurate and items in stock as of time of publication.
Deb Powers is a freelance writer who specializes in home, education, and lifestyle topics. She draws on her experiences as a teacher, mother, grandmother, and all-around creative spirit to help others achieve their own goals.