Summer is just heating up! That means there is still plenty of time to relax in the the heat and enjoy some camping. Help your friends and family enjoy it even more when you give them this amazingly comfortable hammock chair. Perfect for relaxing during those camping weekend getaways or just chilling in the backyard.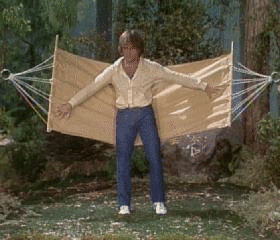 Get Comfy
For many people, the summer months are a perfect time to pack up the camper and head out for a weekend of nature, bonfires, and marshmallows. Imagine sitting around the campsite in this hammock chair. Your friends would love you for buying it for them on Tophatter and you can get it now for around $21!
Why Not Give It A Try?
Unless your friend is living it up in some fancy RV, their outdoor seating options can get uncomfortable at times. I mean, sitting on a log, rock, or canvas folding chair is authentically outdoorsy, but your rear end eventually complains. That's why this hammock chair is the perfect. It can be hung on branches and sits a good distance from the ground. Just sit back and enjoy the sunshine, stretch your body, and feel free from gravity, all for around $21!
The Comfort Is A Winner
These hammock chairs offer so much comfort and can be used not only at the campsite, but even in your backyard. This comfort is a winner also, as the hammock chair has over 1,000 reviews on Tophatter and a 4.6 rating. Here are some recent reviews from buyers:
"Looks great. Good quality."
"Arrived fast. Very comfortable. Love it."
"OMG..I LOVE IT it looks strong and I'm a happy camper…thank you."
With reviews like that, you aren't going to want to miss a deal like this. Give your friend the joy of comfort this summer, but then throw one in for yourself!
Prices are accurate and items in stock as of time of publication.