We were on a break! It's one of the most memorable lines from a television show and for those loved ones wanting to feel a little nostalgic, we have the perfect gift idea for you today. These TV show coffee mugs will be the perfect addition to any cupboard for the TV-loving friend or family member! Now the only questions: do you go Friends, Seinfeld or The Office?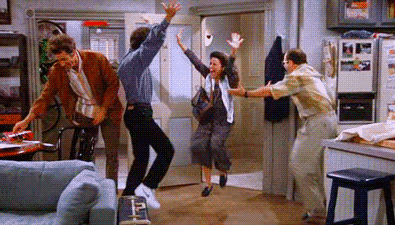 Such Classics
The sitcom has made a comeback in the last few years, slightly because shows like Will & Grace and Roseanne (for a brief moment) got reboots made. However, the 90's were a time when TV sitcoms were good. Three of our favorites had to be the three mugs seen in that cover photo. We all wanted to be on Friends and actual friends with these people. Seinfeld was about nothing, yet we all loved it. The Office made us all feel better about our job and co-workers!
Who Doesn't Love A Coffee Mug?
When it comes to giving out gifts, sometimes a cute or funny coffee mug can be the gift that ties a gift all together. Most people drink coffee or tea, so it is a gift everyone could make good use of. These TV show coffee mugs are a perfect way to spice up a gift basket for a loved one, as who wouldn't love this Friends coffee mug from Amazon for only $15?
Don't Forget About Michael Scott
Many people loved Michael Scott from The Office. Was he the smartest cookie out there? Not by a long shot, but he had a heart of gold and it often shined through in each episode. How could you go from laughing so hard in an episode to crying by the end?
One of the big reasons was Michael and the things he would say or do, like his famous line, "That's what she said." Any fan of The Office knows this line and would absolutely love it on a mug, like this one from Amazon for around $12.
If you are looking for a small gift idea to add to someone'e upcoming present, these TV show coffee mugs are exactly what you have been searching for!
Prices are accurate and items in stock as of time of publication.