December is rolling along, and while we are approaching a new year and decade, it can be an exhausting time for people. With all the holiday shopping, seasonal affective disorder, and all that family time, it can be an overload of stress and emotions. A great way to reduce some of that stress can be gentle, relaxing yoga, which is why this yoga ball is a great gift for yourself or someone else who is really feeling the pressure.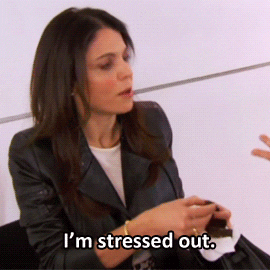 Yoga Is Helpful
Yoga is a mind-body practice, as it brings together physical and mental disciplines that can help you achieve peacefulness of body and mind. According to Mayo Clinic, these practices can help you relax and manage stress and anxiety. While there are many different styles and poses for yoga, taking on this exercise can help you reduce stress this holiday season. Get started with this yoga ball. We love this 20-minute yoga ball routine to stretch out your back, neck, and chest, deepen your breathing, and help you totally chill.
High Density Exercise Ball
While this exercise ball is great for yoga, there are other options available for this exercise ball. Maybe you want to work on that core while in the office? This is a perfect option for your new office chair (or even when watching your favorite Christmas movie this holiday season)! Some women have also used it as a birthing ball, so it comes in very handy.
And can we be honest? It's just straight-up fun to have a little bounce.
The reason is has a lot of great uses? It is one of the highest density exercise balls you can buy on the market. The ball has 2000 micrometers in thickness and can resist up to 2200 pounds! It is made extra thick and anti-burst, so no need to worry about this yoga ball popping on you!
Easy To Use
The yoga ball is very easy to use. Your purchase will come in a convenient box with a quick inflation foot pump. It also includes two extra air stoppers, so you'll be sure to keep inflated at all times. The yoga ball is available in five sizes (45cm to 85cm), which one you should choosed based on your height and what you will be using the ball for, and it's all explained in the listing. Add in 17 available colors for the yoga ball and you can have one for everyone this holiday season!
Prices are accurate and items in stock as of time of publication.