Wrapping a gift sounds easy but in fact can be an incredible challenge. (We've been there. Trust us.) Not only do you need to form the perfect edges and smooth out all of the angles to create a seamless look, but more often than not you are faced with odd shapes and sizes that can make the whole process daunting and frustrating.
These tips and tools are tried-and-tested methods to help you refine your skills in the gift-wrapping department, and a surefire way to guarantee that you wrap the perfect present every single time. All you need are some paper, a box (if you want!), some scissors, and double-sided tape. Oh, not to mention a positive attitude!
The best way to wrap your gift begins with selecting the right size of paper. Using too much wrapping paper is just downright wasteful and can overwhelm the person wrapping it. On the flip side, not enough wrapping paper is a recipe for hair-pulling frustration and might force you to start all over again. If you want to ensure you have just the right amount, make sure the paper comes up a little more than halfway on the sides of the object you're wrapping and wraps all the way around it with at least an inch of overlap.
Pardon the pun, but scissors may not cut. If you want to create the perfect cut of wrapping paper, you're going to need the perfect tool to make it happen. A wrapping paper cutter helps to guide your hand along the sheet of paper to make sure you get a straight line. If the paper you've selected has a printed design, the paper cutter can help make sure you don't cut the design in the wrong place.
If you're dealing with gifts that aren't symmetrical or angular shapes (like a vase or soccer ball), consider putting them in a box before wrapping them. Not only does a box make it much easier to wrap, it also doubles the anticipation that the recipient feels when they're opening up the gift! You can even have some cheeky fun and conceal your gift in a reused box that leads them to believe they're receiving, say, a MacBook Pro. Then they open it and see that you've given them a chess set instead. (Just kidding—that might be a little too mean.)
4. Turn Your Gift Upside Down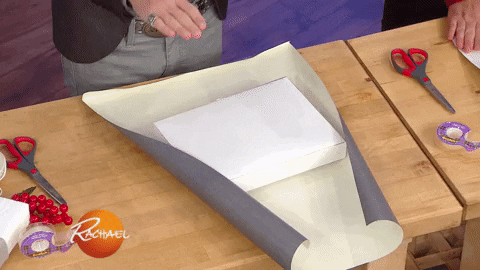 A not-so-secret trick of the gift-wrapping trade includes turning the gift upside down before you begin wrapping it. Doing this will allow the wrapping paper to overlap on the underside of the gift. The added benefit of this trick is to allow the receiver to see exactly what they got when they unwrap their gift from the top, where a bow is likely placed. Avoid having them flip the gift over by keeping this trick in mind.
Gift-wrapping experts' best-kept secret is double-sided tape. When you use regular tape, you risk puffy sides and edges. This can cause the gift to unravel if it gets caught on something. Also, it's just plain unattractive to the eye. Avoid compromising the beauty of your wrapping paper and (by now) expert wrapping skills by using long strips of double-sided tape to secure your paper the right way. If you have any add-ons—like bows, curled ribbons or cards—just add a little strip of your double-sided tape to keep them perfectly in place before the big reveal.
Now that you've learned how to wrap a gift, all that's left to do it get out there and search for the perfect item for that special someone in your life. That, too, is easier said than done—check out our blog for gift guides for any person or occasion!
Prices are accurate and items in stock as of time of publication.