When times are stressful, it can be hard to relax and find that calm in your life. The COVID-19 outbreak had everyone on edge and anxious over the unknown. We all need to take some time and put down our screens and stop reading the news. Yes, we need the news and media to find out details of what is going on, but don't over do it. If you're struggling to take some time to relax we have a magic word for you: hammock.
Plenty Of Ways To Reduce Stress
Some people like to go out and get a full-body massage to relieve some stress and pain. Since that's not an option right now, Greatist is sharing 40 ways to relieve stress and find some inner peace in under five minutes, which is just my style!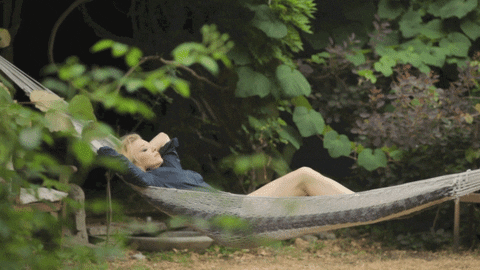 Some ideas on the list might be new to you , like the tip for rolling a tennis ball under to get a great massage. Other ways include doing a crossword puzzle or journaling, which are great ways to get out some tension and wake up your brain. Another suggestion on that list is to get out and enjoy some sunshine and fresh air, and that's by far my favorite.
We Prefer The Hammock Idea
While most of us are on lockdown if your job isn't essential, then getting out to a park or hiking isn't an option. However, you are welcome to head out to your backyard (if you have one) and hang up this $12 hammock. If you are in an apartment, get creative and find ways to hang it up, but make sure you are by a window or on the a balcony to enjoy that sunshine!
This hammock comes in a rainbow color and can be used both indoors and outdoors. You can enjoy it on every nice day until next fall. At just $12, that's just about the best bang for your relaxation buck you can get. You can let everyone in your family have some quality time in the hammock… or you can be greedy! Grab that glass of wine and head out to the backyard by ordering your hammock now!
Prices are accurate and items in stock as of time of publication.