You spend so much time shopping and finding the perfect gifts for everyone on your list. You are so proud of yourself, but you know what comes next, right? It is time to wrap all the presents, and unless you are a professional elf, wrapping gifts can be the hardest part of the process. This wrapping paper cutter is the ideal addition to anyone's gift wrapping supplies if they have ever thought, "Why is cutting straight lines in gift wrap so hard, anyway?"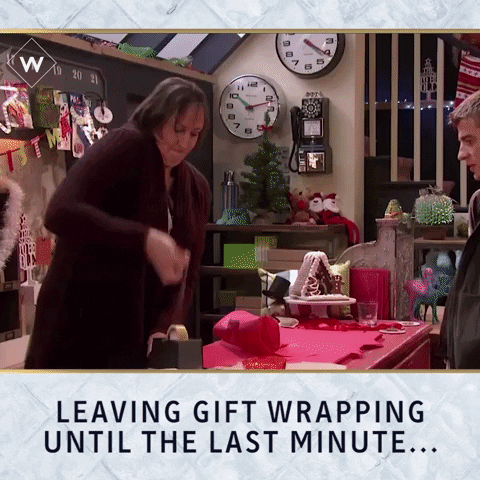 Saves You Time
Unlike the lady above, you don't want to wait until the last minute to do your gift wrapping. The holidays can be stressful enough, so help relieve some stress by saving time on the wrapping. Even though you spent most of kindergarten mastering scissors, when it's wrapping time, the scissors are rarely your friend. They never cut straight and they often leaves the paper uneven and frayed. This wrapping paper cutter is a simple, effective tool for cutting wrapping paper that saves you the time and aggravation and helps your presents look so neat, they're Santa-worthy.
Easy To Use
This cutter is flexible and can be used on any size roll of paper, and is beyond easy to use. To start, slide the cutter over the wrapping paper. Once on, pull the paper through the large slot on the device. When the sheet of paper is the length you desire, slide the wrapping paper cutter to the end of the roll allowing the paper to drop into the slot where the blade is embedded. Now slowly push the cutter forward to make a clean cut on the paper. Once the cut is finished, simply bring the wrapping paper cutter back to the center of the wrapping paper. This makes the device even more convenient, as the cutter will hold the paper in place and stop it from rolling away!
Besides that, the wrapping paper cutter is safer and easier to use than scissors. It is the perfect gadget for your kids to use, as they learn the joys of wrapping presents during the holidays! With the price under $10, this is a deal you can't pass up if you need tackle the tinsel!
Prices are accurate and items in stock as of time of publication.