As we get older, it can be harder and harder to keep your smile shining bright. Whether you're a soda lover, a red wine connoisseur, or a die-hard coffee drinker, the stains on your teeth become more prevalent as time goes by.
While we all want to live on a budget and not spend crazy amounts of money (not to mention the discomfort) on something like a course of bleaching at the dentist, sometimes you need to do a little self-care and take care of your own health and well-being. And what's better for your well-being than a great smile? This teeth whitening powder from Tophatter is the perfect way to do that, as it will whiten those teeth without breaking your bank account!
Natural Teeth Cleaner
For this teeth whitening powder, it contains a cleansing ingredients many of us are familiar with: baking soda (also known as sodium bicarbonate)! As many of us know, the baking soda will bring on a rich foam when being used to clean the teeth. That foam can effectively dissolve any stains you may have in your mouth. Baking soda is a natural ingredient in this teeth whitening powder, which allows you to get that shiny smile without hurting your gums.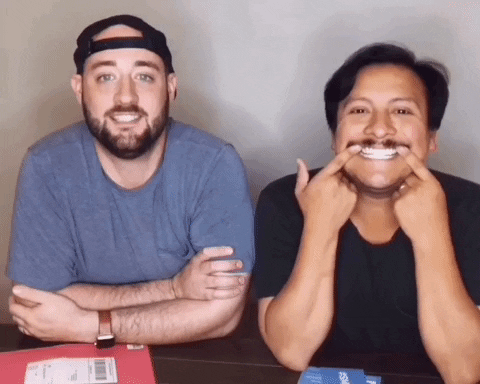 Deep Sea Pearl Essence
What is that you say? Yeah, when I read this teeth whitening powder contains an activated deep sea pearl essence, I thought this sounded like a winner indeed. The powder contains 1,000 mesh-sized, delicate pearls in the powder. The powder allows you to reach all those angles in your mouth. Even stains you may not even know you have. It will brighten and whiten those stained teeth caused by smoking, drinking tea or coffee.
A Fresh And Clean Mouth
A big trend out there is using charcoal toothpaste to whiten your teeth (and it has pros and cons). From personal experience, it can be an effective whitening solution. However, it doesn't always leave your mouth feeling clean and fresh. I mean, it is a black gunk you are brushing your teeth with. That is why this teeth whitening powder from Tophatter is much more effective.
This powder contains oral fresheners, such as menthol, xylitol, and mint flavor. This, combined with the baking soda, not only gives you a brighter smile, but a cleaner and fresh-smelling smile. The oral fresheners can help remove odors caused by food debris and clear out bad breath problems.
You are definitely going to want to do some self-care and get this teeth whitening powder for yourself. And heck, with a 30-day manufacturer guarantee, if you aren't satisfied with the results, you can always return it (but we think you'll be one happy camper with a white and bright smile)!
Prices are accurate and items in stock as of time of publication.